Sustainability
At By Glaze we are committed to using the best sustainable and recycled materials. We are creating timeless designs that focus on quality and craftmanship, ensuring every piece is made to last.
Our packing is plastic free and using sustainable materials and we plant a tree with every order. We also believe in the beauty of vintage and we will therefore be releasing a vintage collection in the near future, so stay tuned.
ETHOS
We believe in timeless styles, beautiful design and products that can be worn with every outfit.
It is important to us that beautiful pieces shouldn't harm the planet and so we have adopted the ethos of creating our products as sustainably and ethically as possible. It's the little things that can make the greatest difference.
MATERIALS
We are proud to use only certified recycled sterling silver and responsibly sourced 18k gold plating in our By Glaze products. With each material being ethically sourced and conflict free. The 18k gold plating is at 2 micron, which is substantially thicker than industry standards, meaning it will last longer. We are creating peices that produce minimum impact and therefore all of our materials used have been chosen with the planet and longevity in mind.
PACKAGING
We are advocates of being as sustainable as possible, which is why every element of our packaging is plastic free and made from recycled and recyclable material, from the compostable bags, to the water based eco prints, even down to our plantable 'thank you' note.
CHARITY
We are proud to be planting a tree with every order with One Tree Planted. Because every purchase creates a positive impact.
SUPPLIERS
By Glaze believes in supporting artisans, and partnering with factories and makers who believe in a slower more sustainable approach and creating pieces that last with the planet in mind.We partner with local artisans and makers in Thailand, Kenya and the United Kingdom.
Our responsible and ethical supply chains are committed to paying fair and above standard living wages whilst our small family run factories pride themselves on their certified ethical working conditions which empower and support female makers.
We focus on minimum waste, green manufacturing and responsible ethical handmade jewellery. In addition, our factories focus on women run cooperatives to teach metalwork, design and business skills in what was traditionally a male dominated skill and sector. Supporting and giving back to the local community through local charities and donations and empowerment of artisan female workers.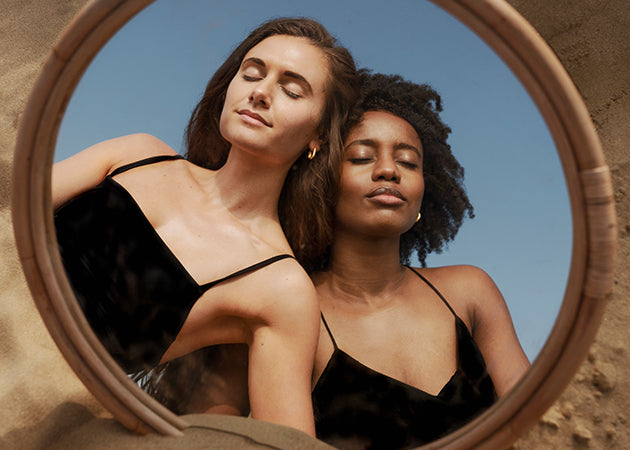 CULTURE
Gold jewellery is more than just an accessory found in women's daily attire. There is a whole culture behind it, dating back to Nubia - Africa, a civilization that existed in the fourth century in what is now present day Sudan. As well as the Egyptians in 2000 BCE with both Queens and Pharaohs wearing hoop earrings, and the Romans following shortly after.
The use of gold in art, religion and currency, dates back centuries and touches almost every known culture, with regular use within the Asian, Southeast Asian and Hispanic cultures. Yet, it is undeniable the widespread impact Black culture has had on mainstream western societies adoration for gold jewellery. With the 1960s and 70s in particular creating a larger awareness of the hoop earrings when Nina Simone and Angela Davis were continuously seen to be wearing them.
We understand and respect the history and traditions of gold jewellery, from around the world, and we hope our products can empower women of all cultures and backgrounds, just as we've seen gold jewellery do for the women many centuries before us.